Been a bit absent lately. Not been at my best for one reason or another. So took a few days and some time out oop North to convalesce.
Mother took me to Carnforth Station, used as the setting for the 1945 classic 'Brief Encounter'. Probably my most favouritest film ever, even ahead of 'Gone With the Wind'. Lead actress Celia Johnson has the saddest eyes ever seen, as she recounts her tale of infidelity, guilt, and the violence of fleeting and unconsummated passions. If you haven't seen it you must. Pure cinematic heartbreak.
A reminder that -'this misery can't last'. And won't last.
Plus we took tea at Betty's and I stocked up on bathing goodies at Emma's Apothecary, Skipton
http://www.emmasapothecary.co.uk/
How fabulous we Emma's are :-)
Am starting to learn about CBT, and am realising that I need to overcome my intense fear of relaxing.
Oh, and I've begun to realise that the best nights out are sans alcohol. And that friends understand when I need them to.
(also finished my trinket box)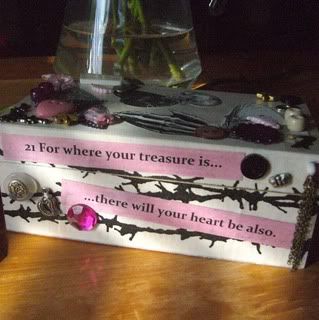 Stay Strange x